Most durable stickers you'll ever own! Rotten Remains is the top online sticker manufacturer and seller of bold, durable, Eco-friendly vinyl stickers and decals. Our stickers are manufactured with commercial grade, printing and precision cutting equipment using only the best quality materials on the commercial market. We use durable, vinyl materials and over-laminate films. Our inks are vibrant in color and Eco-friendly. All of our vinyl stickers are UV fade resistant, weather, water, chemical and scratch resistant.
Every product is hand inspected and packaged by us! If a product doesn't meet our high standards, it doesn't leave our shop.
We manufacture several different types of stickers including full color (opaque) printed stickers, rub on transfer stickers and reflective stickers in a variety of shapes and sizes.
Depending on the size and the quantity of stickers ordered, stickers may be shipped as singles (1 sticker) or as 2 or more stickers on a row or sheet. All stickers sold on Rotten Remains will have no packaging.
All sticker sizes listed on the site are approximate. If only one size is listed, it is the approx. largest dimension of the design (either height, width, or diameter).
The image provided shows how different sticker shapes are measured to determine approx. size.
Although we print in the highest resolution possible, very small, fine detail in smaller sized stickers for example 2 inch, may be unclear and/or missing.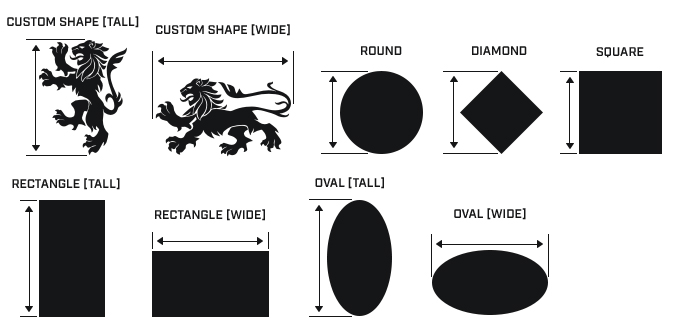 Sharp. Bold. Durable. Quality Vinyl Stickers, Decals and Labels
Durable UV Protected Laminate Film
Every printed vinyl sticker we produce has a protective, clear laminate film added to help protect your stickers against fading, cracking, peeling and abrasions.
We use environmentally friendly, Eco-Solvent inks in our printers that produce rich and vibrant colors.
Premium quality, commercial grade vinyl materials resulting in vibrant, sharp professional graphics.
Pressure sensitive self-adhesive. Permanent, meant for single use (cannot be removed and re-applied). Adhesive is on the backside of the sticker.
Removable Backing Paper (Silicone Liner)
The backing paper protects the adhesive until you're ready to apply your sticker.
Our vinyl stickers, decals and labels are UV fade resistant, water resistant, weather resistant, chemical resistant, scratch and abrasion resistant. The flexibility and durability of vinyl also allows them to withstand folding and bending and still be able to be applied and stick. Although our stickers are durable, prolonged exposure to any of the previously mentioned conditions may result in damage to the sticker.
Application Surface Compatibility
Our stickers and decals can be applied to almost any smooth, flat or slightly curved, non-porous surface. All application surfaces should be tested before applying the sticker or decal. Application is the sole responsibility of the user.
The application surface examples listed below are not a complete list.
Vehicles (Cars, Trucks and Motorcycles)
4x4s, Race Cars and Trailers
Aircrafts (Planes and Drones)
Watercrafts (Boats and Personal Watercrafts)
ATVs and Snow Machines
RVs and Travel Trailers
Hard Hats and Helmets
Windows and Mirrors
Walls, Doors and Mailboxes
Gun Safes and Toolboxes
Tool Cabinets and Chests
Cell Phones and Tablets
Laptops and Computer Towers
Surfaces that may produce undesirable results:
Low Energy Plastics
Low VOC Paints or Coatings
Rough or Textured Surfaces
Damaged or Rusty Surfaces
Greasy, Oily or Dirty Surfaces
Porous Surfaces
Full Color Printed Vinyl Stickers
Printed with vibrant, Eco-solvent (environmentally friendly) inks on commercial grade, durable, arctic white PVC vinyl that has a silicone release liner (backing paper).
These durable stickers are protected from scratches, rain, chemicals and sunlight by a clear, UV fade resistant PVC laminate film. This layer of protection is added at no additional cost.
The full color stickers we produce have a square or rectangular backing (backing paper / silicone release liner) around the die cut sticker that's slightly larger than the sticker.
This backing helps protect the edges of your sticker from damage and protects the adhesive until you're ready to apply it.
Most of our printed stickers are peel and stick application. The sticker peels off the backing paper / release liner from the front. Our stickers do not have a split back.
The pressure sensitive adhesive is gray for high opacity. Permanent and meant for single use (cannot be removed and re-applied). The adhesive is on the backside of our stickers typically for placement on the outside of a window or surface.
Rotten Remains makes every reasonable effort to display the products on RottenRemains.com as accurately as possible. 
Various factors, including the display/color calibration settings (brightness, contrast or color temperature) of your computer monitor, smartphone or other viewing device, may affect what you actually see on your computer screen or smartphone.
Colors of the actual product may vary from the colors you see on your device due to variations in display or color calibration. Rotten Remains is not responsible for the display of any color or detail of our merchandise on your viewing device and cannot guarantee the accuracy.
We reserve the right to modify and/or discontinue any product at any time. Product designs, product descriptions and/or product pricing are subject to change at anytime without notice, at the sole discretion of Rotten Remains.